---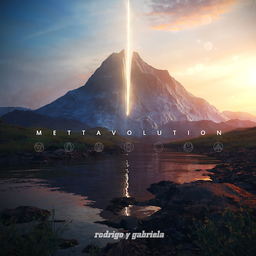 Rodrigo y Gabriela: Mettavolution
One of the most exciting releases this year, Rodrigo y Gabriella take new flamenco, rock, jazz and pop influences to the extreme. These two acoustic guitarists are masters, and they have been creating catchy, engaging virtuistic creations for much more than a decade now. On Mettavolution,however, their sound evolves from mostly duets to full-band experiences, and the more fully realized songs now combine classic flamenco and jazz guitar elements with modern rock and pop influences. As a result, it's a catchier and more appealing music than any they have yet produced. There's very little not to like about the constant movement of this virtuoso guitar duo as they tear up licks across the musical spectrum in each piece.
American Football: American Football
Indie pop-rock with an easy-on-the-ear feel; some call it emo, but this group, like Death Cab for Cutie, which it sounds a bit like, has far outgrown that moniker. There's attention to songwriting and melody—hooks more than riffs—combined with organic rhythms akin to The National. "Uncomfortably Numb" is the most catchy, tap-your-foot-and-hum along song of the year for me. I spent many a run this year with it stuck in my head, propelling me through the miles. If you still remember them (and they haven't stopped producing music), Trash Can Sinatras is the closest comparison, with uncluttered but still jangling guitars and interlaced keyboard sounds. It's nice to hear this kind of careful production in pop music.
Fennesz: Agora
One of the kings of electronic music (though for him that's usually a misnomer), Christian Fennesz has been creating drone soundscapes that are frequently pushing boundaries. His characteristic combination of blurry electric guitars and sound oscillations make his work immediately recognizable and yet in this latest creation—recorded in his apartment—reveals the wisdom of addition by subtraction. His trademark fuzzy guitar sound is muted here, and this allows some of the other mesmerizing sounds to speak a little louder than usual, and the result is a transcendent transportation of the listener to a place above the earth. I know, it sounds a cliché, but give any of the four 10-plus-minute songs a listen and odds are, you will feel enlightened by the experience.
Chihei Hatakeyama: Void XVIII
I understand. Hatakeyama was on last year's list. And he releases five or six albums on average every year. And a lot of it sounds similar. But I do a lot of writing on my computer, and appreciate the rare ambient artist whose talents can transport me and inspire me (without boring me, as most ambient artists do). Hatakeyama is a master at the task, and this is another organic, oscillating composition that ebbs and flows gently to lift you like a leaf into the sky, where you see and understand the entire landscape below.


Loscil: Equivalents
Scott Morgan continually surprises with his ability to legitimize the ambient music genre. Those without imagination or attention might overlook his music as background fodder, but those who listen repeatedly will find that, like only a few in this genre, Morgan creates true music. The clouds that inspired this album (Alfred Stieglitz's cloud photo series) suddenly come to life. As such, this music becomes the definitive cloud music. Try it on your next flight and see if I'm wrong.
Bat for Lashes: Lost Girls
Loosely based on a supernatural-80's-horror-movie theme (Get it? Lost Girls/Lost Boys?), Natasha Khan's songwriting, voice, and lyricism are as incisive as ever here. If you like the sound of an ultra-slick (dark, in this case) production, this will appeal to you. If not (I tend to be a not), the songs still don't get completely overwhelmed by the 80's Roy Thomas Baker-esque production (the songs could be the soundtrack to season 4 of Stranger Things). This seems like a step toward Khan discovering she has the chops to create an album that doesn't need the heavy-synths or complicated percussion, but those elements don't ruin what are haunting melodies and sincere singing.
Tiny Ruins: Olympic Girls
A glance at the album cover will give you the timbre and sentiment of this album. The grainy photograph of, presumably, the three band members, centered at the bottom of the cover, with a weighty unkerned serif font at the top, screams 1974. At her best, Hollie Fullbrook transcends the three-piece sound and 70's folksy material to create timeless melodies. At times, it stays there in the unsurprising but still highly listenable territory.
Vanishing Twin: Age of immunology  
Good rainy day pop. Or sunny-day if you're in a car driving somewhere you like. Or music to listen to if you go back to the late summer of 1975 and want to fit in.
Helado Negro: This Is How You Smile 
The band name and the album name tell you all you need to know. If you're inclined to like either, you'll like this music: eclectic and interesting, and even though there are some misses, there are mostly hits.
Jay Som: Anak Ko
You know this: jangly guitars, airy female vocals borrowed from the early 1980's—more Cocteau Twins than Shelleyan Orphan, though a little of both. If that's what you're looking for, you'll get it here and be very satisfied.
Sleater-Kinney: The Center Won't Hold
Yes, this sounds a lot like a St. Vincent album (as it is produced by Annie Clark), but if you listened to the last St. Vincent album, that mess of an attempt at pop music didn't sound like a St. Vincent album, so this one corrects that mistake. It's clever, discordant, varies its pace and engages with newness at every turn. 
Bon Iver, 'i,i'

Admit it. You love the idea of Bon Iver, but rarely listen to more than four songs of any one album. Each new one seems so fresh and inviting, and the first couple of songs amaze you. Then… well, then it's like the guy runs out of steam. Ultimately, you still appreciate his attempts at songwriting and/or originality. But it's the next album you're sure will be the one he puts it all together and makes music you want to listen to over and over. This one, for better and for worse, is another such example, and it's easy to trace the problem this time. It's production. From some of his live performances and his finest work (an unreleased performance at AIR Studios), one can recognize his songwriting and vocals are top-notch. So why does he muddle it in so many unnecessary cute-and-or-annoying knob-turning and vocal-messing? The songs here are some of his best. If you can find them over the unnecessary beats and percussive elements and double-and-triple-tracked vocals, you will enjoy this album immensely. But it's the nextalbum that's going to be the really good one!
Vivian Girls: Memory
Until the vocals on the fabulous single, "Something to Do" begins, you'd swear this was Bob Mould (Husker Du), and even afterward, you'd say to yourself, "Wow, this is the music Mould was still making… clever, angry, a wall of sound beating forward forward forward, and yet full of tiny little hooks and surprising chord changes. The most exciting rock album of the year.
Front Line Assembly: Wake Up the Coma
One of the first generation industrial groups is still one of the best. Dark, moody, yet rhythmically moving (it could move faster, as 90's FLA used to), its electronically generated soundscapes are great when you're in a very bad mood. 
---